Was sind Exoplaneten?
Since the detection of the first extrasolar planet around 51 Pegasi (Mayor & Queloz, 1995), the search for extrasolar planets has been intensified. Around X planets have been detected in our galaxy (May 2014). Figure 1 compares the planetary system 51 Pegasi with our Solar System and visualises the difference in size between the two.
Figure 1: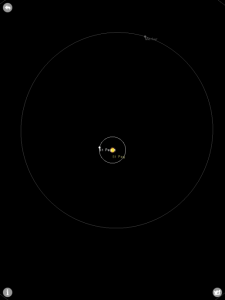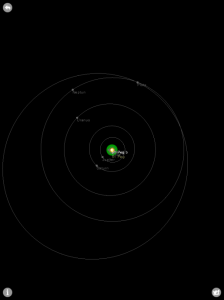 Welche Körper als extrasolare Planeten bezeichnet werden dürfen legte 2003 die IAU Working Group on Extrasolar Planets fest:
Körper mit einer wahren Masse unterhalb der Massengrenze für thermonukleare Fusion von Deuterium (< 13 Jupitermassen für Körper mit solarer Metallizität), die sich in einem Orbit um einen Stern oder um Überreste eines Sterns befinden (die Planetenentstehung spielt dabei keine Rolle) sind extrasolare Planeten. Die wiederum über Masse/Größe wie in unserem Sonnensystem definiert werden (Jupiter, Neptun, Erde).
The nomenclature of extrasolar planets ist composed of the name of its central star and small letters in alphabetical order starting with b of their detection from the inside to the outside. (Figure 2)
Figure 2:
Die bis heute entdeckten extrasolaren Planetensysteme zeigen ein weites Feld der Entwicklungszustände. Es gibt Planeten, die ihren Stern auf sehr nahen exzentrischen Orbits (e > 0,3) umkreisen (Zum Vergleich: die größten Exzentrizitäten in unserem Sonnensystem sind e = 0,2 für Merkur und Pluto). Andere extrasolare Planeten befinden sich auf Orbits, die wesentlich geringere Entfernungen von ihrem Stern haben, als der sonnennächste Planet Merkur (0,39 AU) in unserem Sonnensystem. Nicht nur die Orbits der extrasolaren Planeten weisen eine hohe Variabilität auf, auch unterscheiden sich die Planeten durch ihre innere Struktur und Zusammensetzung (Gesteinsplaneten, Gasriesen). Die Sterne selber zeigen ein ebenso breites Spektrum. Es gibt nicht nur Hauptreihensterne wie unsere Sonne, sondern auch massearme Sterne, Riesen, weiße Zwerge und Pulsare, die von planetaren Begleitern umkreist werden.
Life as we define it in planetary systems is only possible within the habitable zone. It is characterized by available water in a liquid state, which is a essential for life. The area of ​​the habitable zone depends on the type of star. In our Solar System the habitable zone extends from the orbit of Venus to the orbit of Mars (0.95 to 1.37 AU, Kasting et al., 1993). The habitable zone for hotter stars is further away from the star and for cooler stars it is closer to the star (Figure 3).
Figure 3: