Meeting with the comet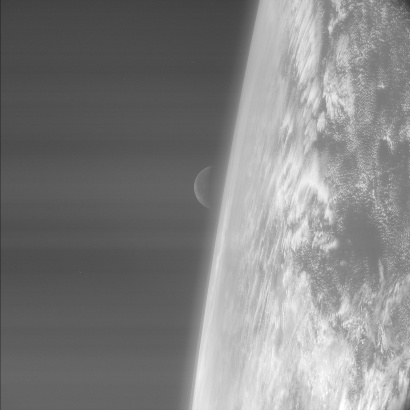 The most difficult phase will be the approach and rendez-vous with the fast moving comet Churyumov-Gerasimenko. In August 2014 Rosetta achieve an orbit around the comet nucleus. Churyumov-Gerasimenko is a short periodic comet which recurs every 6,57 years. It was discovered in 1969 by Klim Churyumov (University of Kiev, Ukraine) and Svetlana Gerasimenko (Insitute of Astophysics Dushanbe, Tajikistan). Two approaches to Jupiter in 1840 and 1959 changed the comets orbit from initially 4.0 AU perihelion distance to 1.28 AU. The comet is a member of the so called Jupiter family (with the aphelion, i.e. the most distant pointof the orbit at the Jupiter orbit) which is a group of short periodic comets in the solar system.
Rosetta wird Churyumov-Gerasimenko auf seiner Bahn verfolgen und im Jahre 2014 treffen. Das Rendezvous soll in einer Entfernung vom 4,8 AE von der Sonne entfernt stattfinden und im August 2014 wird Rosetta sich in einen Orbit um den Kometen begeben und ihn für 17 Monate begleiten. Da von Churyumov-Gerasimenko zur Zeit nur sehr wenig bekannt ist, und weder gesicherte Erkenntnisse über seine Größe, seine Form noch seine Masse vorliegen, wird der Anflug an den Kometen recht schwierig sein. Nach Auswahl eines geeigneten Landeplatzes wird der Orbiteram 11. November 2014 ein 100 kg schweres Landemodul (Philae-Lander) auf der Oberfläche absetzen. Wegen der sehr geringen Gravitation muss die Landegeschwindigkeit sehr niedrig sein, kleiner als 1 m/sec, sonst würde der 'Lander' vom Kometen abprallen und ins All verschwinden. Gleichzeitig wird die Raumsonde den Kometenkern weiterhin umkreisen und seine Veränderungen über mehr als 14 Monate verfolgen. Zu dieser Zeit wird der Einfluss der Sonne begonnen haben, Teile des Kometenkerns zu verdampfen und die Oberfläche des Kometen wird ausgasen. Hierbei kann erstmalig beobachtet werden, wie sich ein Komet bei der Annäherung, bei seiner geringsten Distanz (Perihelion-Passage) zur Sonne und bei der Entfernung von der Sonne verhält und verändert.